If research and analysis are to be useful and accurate, they must be planned and executed in a manner that will effectively yield the required information. Yet, all too often, research projects are implemented with a variety of avoidable problems:
Ambiguous goals and objectives
The lack of theoretical foundation
Untestable hypotheses
Invalid & unreliable methodologies
Non-experimental designs
"Convenient" secondary data sources

Unrepresentative samples
Ineffective research instruments (questionnaires)
Analytic confusion (& statistical paralysis)
The inability to identify "significant" results
Poor communication of quantitative information (graphs & charts)
The Research Advisors™ was created to assist academic and corporate researchers in the creation and conduct of effective research. Our expertise includes over twenty years of corporate, public policy and academic research (including marketing, customer & employee satisfaction, segmentation, public opinion, pricing, product feasibility, and a wide range of social and political science issues). Additionally, we teach research and quantitative analysis courses at the graduate level.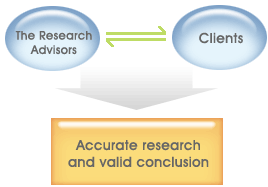 In addition to our professional work, we have supervised and served on Dissertation and Thesis Committees and served as methodological and statistical advisors for a variety of Graduate and Undergraduate research projects.
Our many years of experience have taught us what works and what doesn't. Let us share our expertise and help you to avoid the common pitfalls of the research process.
Please contact us at info@research-advisors.com for a discussion of your needs.